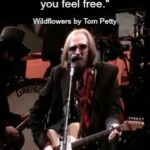 Tom Petty was one of my all-time favorite musicians. His music always touched my soul. The news of Tom's death was a complete shock. I was very lucky to have seen him 3 times in the last month. At all the shows, he and his band, The Heartbreakers, were having so much fun on stage! Tom said several times throughout all the shows that he was very thankful for his fans and you could feel his gratitude.I have heard that he was one of the nicest guys in the music industry and it shows.
This news came just after the Vegas shooting and a burial service I had attended. As many of you, I feel so broken and raw. All those beautiful and innocent lives lost in a senseless act that we may never know why. My heart goes out to everyone who was affected by this unthinkable tragedy. When one person hurts, even if we don't know that person, we grieve right along with them. We feel some of their pain and our heart breaks. For those who lost their lives that night, you will be deeply missed.
Music brings people together and that night even through the horrific events, it still brought a community together. Concert attendees went out to help their fellow music family, even though most were strangers. People carried wounded strangers to safety, cared for their wounds, and loaded the hurt into trucks to get them to the hospital. That is what we do as humans. We help others because we have a deep need to because our connection to one another is so very strong. It also makes us feel useful in a time that makes no sense. I think by helping others it starts our healing process. We have hope that the strangers we are assisting will be saved. We do not worry about their blood getting on our clothes or in our trucks. We have hope that the aid we are giving matters. Lives will be saved because we stepped in to assist. And I thank God for all of the strangers that stepped up in service to help all the wounded. And to all those strangers, who came together as a community, and to give comfort and aid that night, I want to say thank you, thank you, thank you! Your heartfelt acts will not be forgotten.
Music touches our soul like nothing else. I am very grateful for music and get tremendous joy from attending a concert. Songs help us to get through life, and for someone like me, they are the soundtrack of my life. We can feel the lyrics so deeply that when we hear a song we feel it was written personally for us. Music can help pull us through even the darkest of times. Elton John song Sad Songs says "When all hope is gone, sad songs say so much." I think that is so true because we do lose hope when something like this happens.
So where to go from here, I don't know. All I know is that we have to find our hope again because fear takes us in the wrong direction. Hope comes from love and as corny as it might sound, I do believe that love heals. It will take time but I have faith in a better world. Keep sending out love because together, we can heal.
I take comfort in the lyrics of Tom's and other musicians songs. Tom will always be remembered from the radio in my car listening to Runnin' Down A Dream. I am so glad Tom followed his dream and we are the better because of it! As he says in Free Fallin' "Gonna leave this world for awhile" and I guess you did buddy but too soon for all of us. Thank you Tom for sharing your gift with the world. You will be truly missed.
"You belong somewhere you feel free" – Wildflowers.