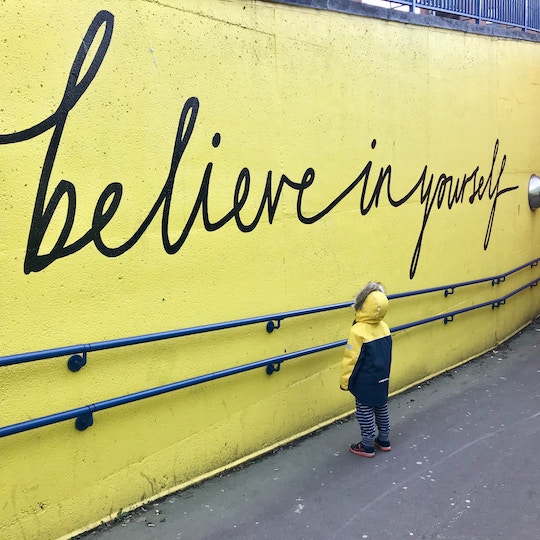 AFFIRMATION: When I believe in myself, I can manifest my dreams.
Are we living our dreams? If not, why? Did we settle for less? Or did doubt or fear tell us that we could not accomplish our desires? Many of us wonder how we got to this moment. What may seem impossible to create can often is achieveable. The first step to manifesting anything is to believe in yourself.
Many inventions we now take for granted were once just a dream—cell phones, computers, automobiles, electricity, space travel. Someone thought what if and believed their idea was possible. The exact steps to achieve what we want may be unknown, but belief and faith create the opportunity to realize our dreams.
If one advances confidently in the direction of his dreams, and endeavors to live the life which he has imagined, he will meet with a success unexpected in common hours. — Henry David Thoreau, American poet, philosopher, essayist
Change Your Thoughts
When thoughts appear, like "I am not worthy" or "This will not work," replace them with constructive phrases such as, "Yes, I am worthy" or "This will work." At first, we may not accept the statement to be true, but with practice and time, we can transform negative beliefs to more favorable ones. The brain does not know the difference between a real or imagined thought. Encourage new thinking to unlock the door to fresh insights and opportunities.
Whether you believe you can do a thing or not, you are right. — Henry Ford, American industrialist, engineer, Ford Motor Company founder
Reshaping our thoughts and habits requires conscious mental effort and an open mind. Old beliefs can keep us from trying something new. Maybe it is out of fear or comfort. Whatever the reason, they prevent us from taking a chance on our dreams and following our passions.
Unexamined habits and thoughts become robotic actions stopping us from discovering if there is something better. Be open to revising automatic thinking and routines. It is worth the effort. Otherwise, we could miss wonderful, life-changing opportunities leading us somewhere we never dreamed of. If I had not been open to a different career path, this book would not exist.
Yes, fear and doubt crept in many times during this process, but I had faith it was my purpose. I realize there was a reason for all the delays—I needed to heal first to write a better book. How many missed opportunities go unrecognized due to old habits and beliefs?
Opportunity is missed by most people because it is dressed in overalls and looks like work. — Thomas Edison, American inventor, businessman, manufacturer
Start Working on Your Dreams
When you start working on your dreams, the possibilities are endless. What is your vision for a great life or career? Have the courage to dream something new and take steps toward achieving it. Just start somewhere. Once you do, help appears in unexpected ways.
This happened to me when I moved from my old home to a new location eight hours away. One of my neighbors suggested getting together with her friend, Mary, after I settled in. I met her for coffee, and she asked if I wanted to join her writing group, Write On! of Dana Point. I did and it has helped me tremendously in becoming a better writer. Two of their members, Sandy and Peggy, helped edit this book, and I am very grateful for their valuable support.
Goal Setting
Write down your goals but don't be too specific in the details—there may be a better plan. Why set limits? An example is when looking for a new job. You believe a job at XYZ Company is the perfect job. It is ten blocks from home, has a 10 percent increase in pay, and health benefits.
You think this is your dream job because it checks all the boxes. But then you see a post in a different industry at ABC Company that is three blocks from home, includes a 20 percent raise, health benefits, a retirement plan, and a corner office with a beautiful view of the park. By keeping the specifics open, more amazing opportunities can present themselves. Of course, you have to put effort into finding a job or whatever you are asking for. It is not going to magically appear at your front door.
We must let go of the life we have planned, so as to accept the one that is waiting for us. — Joseph Campbell, American professor, author, editor
I know people who got their dream job just to find out it wasn't the position they thought it would be. Many take a job because of the title, prestige, or money, and there is nothing wrong with that if it makes you happy. But if not, do you really want to spend years doing it?
Instead, wish for a job that aligns with your intentions, such as one that brings you purpose, happiness, less stress, fulfillment, growth, or whatever is important to you. Trust that the process is getting you what you need at this moment. It might not look as originally planned—it may be much better. You must believe that you can attract great opportunities to bring them to you.
Believe in Yourself
Believing in oneself is truly a gift. We all have skills that are meant to be shared with the world, whether they are teaching, leading, researching, gardening, painting, volunteering, writing, traveling, or anything that lights an internal fire. We are not given dreams we cannot achieve.
The secret to manifesting your dreams is to first believe in yourself. — Lynn Lok-Payne, author, self-growth advocate
But first, we must believe in ourselves. It's the key to accomplishing anything. Then we need to believe that our dreams are possible. If we don't how can they manifest? And when we believe in both ourselves and our dreams, then the possibilities are endless!
Nothing is impossible, the word itself says 'I'm possible'! — Audrey Hepburn, Belgian-born British actress, dancer, humanitarian
What are your dreams? They may not be achievable today, but you can start them by imagining what if. Create a vision or online board. I have several online image boards and some of these pictures have manifested in my life, such as a kitchen with white cabinets and a peaceful backyard. One of my dreams was to live by the ocean. I did not declare, "I want a white house, one block from the ocean (although this would have been nice), with a front porch, two trees, and a flower garden."
I was open with the details and found a house in a lovely, peaceful location, a few miles from the ocean. A house one block from the beach would probably not have been as peaceful because of all the tourists. The universe may have a better plan for us than the one we've imagined. Release the exact details and go with the flow.
Walt Disney's Five Life Lessons
Mr. Disney is a perfect example of someone who followed his dreams. Today we only see the empire he created. We don't hear of the many obstacles and roadblocks he overcame, including bankruptcy. Rumor has it that before Walt received the money to build Disneyland, he was turned down over 300 times by bankers and financiers.¹
He may have failed multiple times, but look at his many accomplishments and victories. Walt's is an amazing success story that started with a dream most thought was impossible. As Walt said, "It's kind of fun to do the impossible."
Walt's Five Life Lessons:
Don't quit or give up
2. Believe in yourself.
3. Believe in your dreams.
4. Curiosity births creativity.
5. Love what you do.
Don't Give Up
If we quit, we may never know how close we came to succeeding. Walt was fired from one of his first animation jobs because the editor thought he "lacked imagination and had no good ideas."² Steve Jobs was let go from Apple, Jerry Seinfeld was cut from the sitcom Benson, and Oprah Winfrey was fired as an evening news reporter because the producer said she was "unfit for television news."³ What may seem like an unfortunate or devastating event may be a blessing if we continue to chase our aspirations.
All our dreams can come true, if we have the courage to pursue them. — Walt Disney, American entrepreneur, producer, animator, writer
Disneyland's First Day
Some say Disneyland's opening day in 1955 was a disaster, referred to as "Black Sunday" by workers. Tomorrowland was not finished, several rides were not open, Main Street's asphalt melted into tar that stuck on high heels, party crashers almost doubled the expected attendance, restaurants and refreshment stands ran out of food, and, with the 100-degree weather and the seven-mile back up on the freeway, people baked in their cars. Kids were forced to take bathroom breaks on the side of the freeway and in the parking lot.4 These unfortunate events made them stronger and they quickly improved.
We did it, Disneyland, in the knowledge that most of the people I talked to thought it would be a financial disaster—closed and forgotten within the first year. — Walt Disney, American entrepreneur, producer, animator, writer
There will always be people who say your dream is not possible. Don't listen to the naysayers! If you truly believe in your dreams, then follow your curiosity. You never know where it may lead. And most importantly, do what you love. When you do, it is no longer work. As Walt said, "Disneyland is a work of love. We didn't go into Disneyland just with the idea of making money."
Take the First Step
Follow Walt's lead and start creating your dream. Is there a step you can take today to help you reach your goal? Even the smallest action will start the ball rolling. The only thing required is to have faith and take a little leap.
The man who moves mountains begins by carrying away small stones. — Confucius, Chinese philosopher, teacher
And once you start, you'll notice how the universe will line up "coincidences" and opportunities to help you achieve your desires. You were put on this earth to create and live your dreams. Be involved in activities that excite you. Aspirations only based on money or status are not fulfilling in the long run. And if your dreams include helping others, they'll be even more impactful and gratifying. Keep working on your goals, even when failure seems more possible.
"To some people, I am kind of a Merlin who takes lots of crazy chances, but rarely makes mistakes. I've made some bad ones, but fortunately, the successes have come along fast enough to cover up the mistakes. When you go to bat as many times as I do, you're bound to get a good average. That's why I keep my projects diversified. — Walt Disney, American entrepreneur, producer, animator, writer
Find Inspiration
You can use your dream life to find inspiration throughout your day. Before going to sleep, imagine your dreams coming true or ask any questions you'd like answers to. The unconscious mind can work out problems in your sleep and bring answers to light. The specifics might not be remembered, but insights can appear. They may come the following morning or the next month. Many times, they emerge when you aren't even thinking about the question. Those aha moments may have originated in sleep. Your dreams can help you solve problems and manifest your desires.
Photo by Katrina Wright on Unsplash
James Asquith, "Did You Know Walt Disney Was Rejected 300 Times For His Mouse And Theme Park," Forbes, December 29, 2019, https://www. forbes.com/sites/jamesasquith/2020/12/29/did-you-know-walt-disney-was-    rejected-300-times-for-mickey-mouse-and-his-theme-park/#3ec491d54a97.
2. Rachel Gillett, "How Walt Disney, Oprah Winfrey, and 19 Other Success- ful People Rebounded After Getting Fired," Inc.com, October 7, 2015, https://www.inc.com/business-insider/21-successful-people-who-rebound–   ed-after-getting-fired.html.
3. Ibid.
4. Christopher Klein, "Disneyland's Disastrous Opening Day," History.com, Last modified July 16, 2019. https://www.history.com/news/disneylands- disastrous-opening-day-60-years-ago.