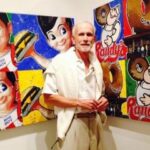 While visiting down in Orange County I came across for a hiking club to join. I wanted a group that was fun and people who were kind. I found such a group! This group is hosted and organized by a man named Randy Smith. Randy told me "he loved to hike and thought why don't I do it with other people?"
Well his hikes are not just hikes. They are a social community of people who hike together and share a meal. His hikes start with people standing in a circle and throwing a ball around which is a great way to get newcomers, like myself, to feel part of the group. Then everyone introduces themselves and off we go. Somehow you find someone who hikes at your pace and you start having a conversation with them. You can learn a lot about someone in an hour. It is amazing how many people from around the world I have met on these hikes.
The hiking part is around two hours and you have a meal halfway through or at the end of the hike. The meal gives you another opportunity to meet more people and share stories. Some hikes your meal is in a shopping center. Another is a potluck on the beach and then there is one where you end up at a biker bar for food and dancing. All have been special in their own way.
Randy has figured out that bringing strangers together can turn into a community. In fact, in the last three years, there have been four marriages and several serious relationships that have come from these hikes. Let me make it clear that these hikes are not to hook up with someone. They are very low key and it just about enjoying a conversation and meal with other people. I am not sure how he does it, but he hosts a hike everyday. Some of the attendees do multiple location hikes and others stick to their own neighborhood.
I am not sure if Randy realizes the positive affect he has on the lives of so many. He makes newcomers feel like they belong; that they are part of a community. Because of his work (and yes this is all volunteer work), he connects people in ways he may never know. And because his efforts come from the heart, I believe he is a spiritual leader.
A spiritual leader is not just a pastor, a guru or life coach. It can be anyone who serves others with compassion and knows the true power of connection. Randy is all these things and more. He knows the value in helping others connect which sometimes get lost in this crazy technology world. He understands that "breaking bread" with people forms a community. In this case, a community of hikers who eat and exercise together.
I know they don't keep score in heaven, but if they did, Randy through his love and compassionate work has changed his part of the world for the better. We can all learn a little from his generosity and heart-felt actions. You don't have to change the whole world. If we each do what we can in our own little corner, then together we can make the world a better place!