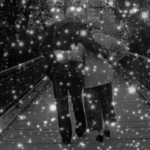 This last weekend I attended a 65th anniversary party that was full of joy, laughter and light. It was a surprise party and were they surprised! It is wonderful to see a family that gets along and truly loves one another. This love starts at the top. Fran and Dick, the patriarchs of the family, are two of the most genuinely loving, nice people that I have ever met. They have a positivity towards life that is incredible.
Their 65 years together has had its share of wonderful moments and challenging times, as anyone who has been married can attest to. Even through the challenges, they have tried to find the joy in life and not let these challenges keep them down. They keep going. A great example of this is that Dick is losing his eye sight and is close to full blindness. Yes that can get depressing at times, but he still finds spaces of joy and laughter in his life. He does not let this challenge stress him out. He still attends family, church and social events. He does not give up and keeps living life. How many of us are fortunate enough to not have a big challenge such as blindness and yet we let all the little things get us down?
Why do we let little stresses, like being a few minutes late or standing in a long line at the store, stress us out? Why do we give so much time, energy and attention to the little stuff? In the overall scheme of life, these little stresses are not important. As the saying goes, if everyone put their problems in a pot, you would probably keep yours because you realize your problems are not so bad compared to others.
Let's take a chapter from The Book of Fran and Dick and live a happy, joyful live sprinkled with all the challenges that get thrown at us and come out on the positive side of life. That truly would be a life fulfilled!
Thank you Oma and Opa for being such great role models on how to live a happy life filled with family, friends and love! Thank you for showing us what a loving marriage should look like. Thank you for teaching us that family and friendship are so important to living a successful life. It is truly your greatest legacy and gift to this Earth!
The below song sung by David Phelps says it best!
David Phelps "Legacy of Love"
"And as I look into the eyes of my daughters and my sons
I hope I've stood for something that they'll want to carry on
Cause life is far too short not to finally realize
That it's long enough to make a difference in someone's life
So I'm gonna love my neighbor and I'm gonna love my wife
Wrap my arms around my children and pray with them each night
Thank God for all the good things 'cause the good things are enough
The ties that bind and leave behind a legacy of love
Oh, the ties that bind and leave behind a legacy
A legacy of love, of love"