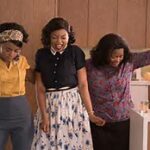 The movie Hidden Figures won The Screen Actors Guild (SAG) Award for outstanding performance by a cast in a motion picture. If you have not seen this film, I highly recommend it. This movie is one of the best movies I have seen in a long time. The movie is based on the lives of three African-American women who worked for NASA in the 1960's. But this movie is more than that. It celebrates and honors all of the women who, perhaps more than 1,000 since the mid-1930's, excelled in math and worked at NASA to contribute to the space program.
The acting and storyline are just phenomenal. The performance of the three female actors played by Taraji P. Henson, Octavia Spencer and Janelle Monae is incredible. You can feel their anger, tension and frustration of the reality of life. And you are applauding their tremendous achievements as they overcome the many obstacles of gender and racial inequality.
I was moved by the acceptance speech of Taraji that I feel can help the world today. I love it when she says "This film is about unity," said a teary-eyed Taraji P. Henson alongside the cast, producers and director. "The shoulders of the women that we stand on are there American heroes: Katherine Johnson, Dorothy Vaughan and Mary Jackson. Without them, we would not know how to reach the stars."
"These women did not complain about the problems, the issues the circumstances. They focused on solutions," she continued. "Therefore, these brave women helped put brave men into space. And we cannot forget the men who worked with them: God rest his soul, John Glenn."
"This story is about what happens when we put our differences aside, and we come together as a human race," Henson concluded. "We win. Love wins every time…. They are hidden figures no more!"1
This is great advice. We all have problems and issues in our lives but when we can focus on solutions and put our differences aside, we win every time. With love we can accomplish anything just as the real women of Hidden Figures, Katherine G. Johnson, Dorothy Vaughan, and Mary Jackson, achieved.
See entire 1:49 minute speech at http://www.hollywoodreporter.com/news/sag-awards-hidden-figures-wins-outstanding-performance-by-a-cast-a-motion-picture-969006
1 http://www.hollywoodreporter.com/news/sag-awards-hidden-figures-wins-outstanding-performance-by-a-cast-a-motion-picture-969006