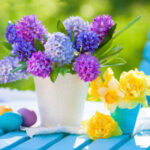 With Easter in a few days away, I was inspired to write about God and Jesus Christ.
Gratitude Joy Compassion
What do these three words have in common?
They all root themselves in love. God's love.
G stands for Gratitude in God
J stands for the Joy of Jesus
C stands for Compassion in Christ
To be grateful for God and all that He stands for, all that He does and all that He gives us. To be grateful for His love, the creation of this life and the opportunity to love. God has given us so much to be grateful for that we need to remember to be grateful for Him.
To stand in the joy of Jesus for all of his teachings, love and support. For his courage and strength to face his fate and to sacrifice himself for us. To forgive and love others who had wronged him is truly one of the meanings of this Easter season. We should carry forth this teaching to forgive and love all.
To truly live with the compassion that Christ gives each and everyone of us, whether you believe in him or not, is remarkable. Christ gives us compassion by forgiving us all of our sins and still loving us even though we have sinned. If we forgive others and ourselves, we are showing Christ compassion and spreading that compassion throughout the world.
God's love is love that is unconditional. Love that is everlasting and never ends. Love that is always there no matter what.
"These things have I spoken unto you, that my joy might remain in you, and that your joy might be full. This is my commandment, That ye love one another, as I have loved you." – Jesus Christ (John 15:11-12)
Let your joy be filled with love and love others as God loves you. Spread your love and it will multiply many times over. Love is a gift God has entrusted to you and it is meant to be shared.
Be grateful for love, live in joy and be compassionate with others. These are the true meanings and blessings of this Easter season!