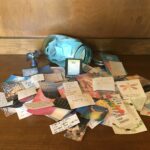 In my April 14, 2016 post "My Daughter's Gift" I discussed the blue jar my daughter gave me for Christmas full of daily inspirational wishes. She had a note for each day she was going to be gone studying abroad in Italy to remind me she was thinking of me. Here is one of my favorites!
1. MAKE A LIST OF THINGS THAT MAKE YOU HAPPY.
2. MAKE A LIST OF THINGS YOU DO EVERY DAY.
3. COMPARE THE LISTS.
4. ADJUST ACCORDINGLY
When I read this, I asked myself "Do I do something every day that makes me happy"? The answer is no. Then I had to ask myself "Why Not?" Good question, right? We do things for other people that make them happy, so why do we not do the same for ourselves?
Make yourself a priority and do something each day that makes you happy. It can be something simple like enjoying a cup of tea, a short walk, getting to bed earlier, mediating, watching a sit-com, talking with a friend, knitting, reading a book or just spending time outside.
Plus you need to start loving yourself and all those imperfections to fully be happy. You cannot be happy if you are criticizing yourself. There is no one like you so embrace those imperfections because that is what makes you special. You are perfect just the way you are. Remember that because you can only give to others what you have for yourself.
Take some advice from Jennifer, Gisele and Lucy.
"If you don't love yourself, you can't love anybody else. And I think as women we really forget that." Jennifer Lopez
"If you are happy, you can give happiness. If you don't love yourself and if you are unhappy with yourself, you can't give anything else but that." Gisele Bundchen
"I have an everyday religion that works for me. Love yourself first, and everything else falls into line. You really have to love yourself to get anything done in this world." Lucille Ball
You can only truly give others what you feel for yourself. Like Lucy said "Love yourself first and everything else falls into place". Happiness is within your reach. Love yourself first and happiness will come. Once you do that, you will be amazed at what life has in store for you. Go out and grab your happiness today!