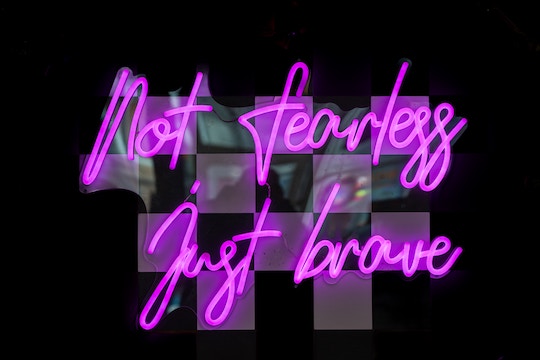 Affirmation: I AM brave.
Being brave means facing challenges with courage and trusting that all will be well. Sometimes in the midst of a crisis, we don't realize we were building courage until after the event.
Hearing stories of people surviving unthinkable events—lying under cement rubble for days after an earthquake, starving and abused prisoners of war, or kidnapped victims who have been violated—we think how did they survive. These extreme circumstances are beyond their control. Those who survive these horrific conditions may not realize they were being brave until the situation was over. Living through terrible conditions takes courage, but it also takes strength to carry on.
Bravery In Action
Malala Yousafzai is a great example of someone who has tremendous courage. At twelve years old, she started a blog, using an alias, discussing life in Pakistan with the Taliban. While boarding a school bus at the age of fifteen, a gunman asked her name and then fired three shots. One bullet went into her forehead and she was taken to the hospital unconscious and in critical condition. The assassination attempt evoked international support for Malala, and in 2013, Time Magazine named her one of the 100 Most Influential People in the World. The following year, she received a Nobel Peace Prize, the youngest person ever to earn this accolade.
They (the Taliban) thought that the bullets would silence us, but they failed. And out of that silence came thousands of voices. The terrorists thought they would change my aims and stop my ambitions. But nothing changed in my life except this: weakness, fear and hopelessness died. Strength, power and courage was born. I am the same Malala. My ambitions are the same. My hopes are the same. — Malala Yousafzai, Pakistani education activist, author, Noble Peace Prize 2014
Malala said the attack only made her stronger and more determined to fight for a woman's right to receive an education. She used her terrifying experience and was brave to turn it into her life's purpose. From loss can come triumph.
Opened Doors
When reflecting on a past challenge, tremendous strength, courage, and perseverance can better be acknowledged. We've heard, "When God closes a door, He opens a window." I don't believe God closes doors. When tragedy occurs, new doors are opened for us, not just a window. I prefer the idea of a door because it's bigger than a window, allowing more opportunities and miracles to enter.
Of course, the opened door may look like nothing one would expect. When experiencing something horrific, we realize anything can happen at any time and this changes us. Maybe we no longer take life for granted or decide to live differently. We all have our own tragedies, big and small. And even though our stories are different, I believe challenges keep us connected, helping us recognize that everyone has obstacles to overcome. No one is immune to facing difficulties. But it's through our hardships that we build courage.
You gain strength, courage, and confidence by every experience in which you really stop to look fear in the face. You are able to say to yourself, 'I lived through this horror. I can take the next thing that comes along.' ― Eleanor Roosevelt
We can view these circumstances as opened or closed doors. Questions then arise, such as, do I stay where I am or open the door? If I take a chance and walk through, what awaits me? What if I don't like it? Choices can be scary and each one may come with its own set of challenges. Fear of the unknown can keep us from opening the door because we understand and are comfortable with our current space. But this can lead to becoming stagnant and stuck. Courage is needed to take a chance and walk through the unknown. When we do, we can discover something wonderfully unexpected.
Letting Go of Fear
I read there are only two fears we are born with—falling and loud sounds—which activate our fight or flight survival instincts. Other fears are learned from our environment. If we are bitten by a dog or our parents are afraid of spiders, fear may be developed.
Anxiety, worry, or fear can block us from performing our heart's desire. These emotions caused me to miss a family zip-lining excursion. Being suspended high above the ground on a wire seemed frightening. What if the line breaks? What if I freak out? My heart was saying yes, but the worry in my mind held me back. When the trip was over and everyone said how wonderful it was, I realized I created my own prison.
A year later, the same opportunity presented itself and I said yes. Even though I was still afraid, I was brave enough to do it anyway. I loved it! Sliding down the wire over the treetops was exhilarating and so freeing. There are times in life when our minds get the best of us and we freak out. Asking why we fear something can bring in logic, not emotions, to help manage the situation. When we quiet worry, we are more open to hear what our heart desires. With different thinking and repeated effort, fears can be defeated or reduced.
Another example is when traveling to a new destination. An unfamiliar place may introduce feelings of fear or anxiousness. The idea of traveling unknown neighborhoods can be daunting. But after a day or two, a more comfortable, settling-in occurs. The longer the stay, the more relaxed we feel. Be patient that fear may not disappear instantly. It's small steps that help us to build our courage. When we take a leap of faith, incredible experiences await.
Building Courage Is Being Brave
Fear can sometimes imply that we are about to do something that requires courage. I know of someone who took a leap of faith which required tremendous bravery. She checked into a drug and alcohol treatment center for thirty days. This step called for courage to face the unknown—What will daily life be like? What emotions will come up in therapy? How will I handle it? She succeeded by overcoming old habits and outdated beliefs which helped her learn more about herself. Some of our greatest strengths develop by working through major challenges.
Conquering personal burdens makes us more capable of handling hardships. Whether we are dealing with addiction, ending a toxic relationship, or releasing buried emotions, it takes tremendous courage to face them. But once we do, we realize bravery we did not even know existed inside of us. It starts with one small step.
Courage is being scared to death . . . and saddling up anyway. — John Wayne, American actor, Presidential Medal of Freedom recipient
With courage, faith, and trust, you can overcome tragedy, worry, and fear. Be brave. Be courageous and build your courage. You are stronger and wiser than you may think. Have faith and believe in yourself. You can soar!
Photo by Nick Fewings on Unsplash