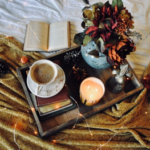 One of my latest reads, The Little Book of Hygge – Danish Secrets to Happy Living by Meik Wiking, I feel can be an inspirational book for those who do not give themselves self-care or are feeling a bit down. Hygge (pronounced hooga) is a Danish word for a feeling of coziness, home, and relaxation. It is also about connecting with the people we love. It encompasses emotions and items that make us feel happy, safe, and comfortable. To me, hygge is like the feeling of a warm blanket fresh out of the dryer giving you a hug.
Many Danish people have a Hyggekrog (pronounced hoogacrow) space in their homes. Hyggekrog is a nook where you can get cozy. It is a spot where you feel comfortable and safe. To create one in your own home, find a corner or area, whether this is a window seat, chair, couch, or throw pillows on the floor, and designate this your hyggekrog zone. Decorate the area around it to make this space your sanctuary. Bring in a soft blanket and add a picture frame with one of your favorite memories. Using natural materials like wool, wood, and ceramic help connect us to nature and is more cozy. Keep it simple in tradition with the hygge way.
Soft lighting is very important for hygge. You can use candles, light your fireplace, or add soft lightening. String lights are also a great addition. If you don't have a fireplace, you can stack some wood to have the feeling you are in a log cabin. And don't forget to dress the part. Cozy socks, slippers, loungewear, or a soft sweater will help to get you in the hygge mood.
Now your Hyggekrog space is ready! Use this space to read, write, journal, or anything that makes you feel cozy and warm. Make a hot beverage like coffee, tea, or hot chocolate, using a ceramic or porcelain cup to keep in the natural theme. Embrace the warmth of the cup in your hands. Feel the beverage warming your body and soul. Adding a little sweet to go with your hot beverage would be very hygge of you.
Why not add a little hygge to your office space? Add a plant or a picture of a favorite person, place, or quote will help to personalize and cozy up your area. If you can, add soft lighting. Soft lights may make you feel more calm and less stressed throughout the day. For me, fluorescent lights make me feel more tense whereas soft lighting is calming. And bring in sweets for you and your coworkers. Nothing says hygge more than cake, cookies, chocolates, or sweets.
Next, think about creating an outdoor space to get hygge. Get into your hyggekrog space and draw a picture of what you would like the space to look like. Pinterest is a great place to get ideas. Or take a walk in nature for great inspiration. Try to use items you already own or swap items with friends. There is a way to create this space with little or no cost, which is also very hygge. Simplicity is key.
Hygge is very personal. What hygge means to me may be different than what it means to you, so do hygge your way. And you may see that a little hygge can go a long way to live a more happier, peaceful life.