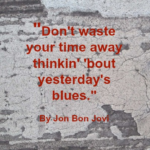 This week I attended a Bon Jovi concert. People of all ages from kids to adults in their 80's were in the crowd. It is amazing to see people connect on a common subject: Music. I think music helps to bridge the gaps that divide us. For a few hours at the concert, we are all on the same page. At the show Jon stated that music builds bridges and I believe that. Plus every band member was genuinely smiling and happy to be there. That positive energy was felt through the room which connected us all.
One of their new songs off the album This House Is Not For Sale, "Born Again Tomorrow" asks the question that if you were born again, would you live life differently? Things happen, sometimes terrible things, or we make mistakes as we live our lives. I like the song's line "You learn from your mistakes. Bones grow stronger when they break". I think that is true. When we make a mistake or go through something horrific, we can come out of it stronger than we were before. It is like the quote –
"That which does not kill us makes us stronger." ― Friedrich Nietzsche
Life presents challenges and if we can be strong, we can get through them. Besides being strong I think you need to accept what has happened to move forward. That is not always easy to do, but acceptance is key to carry on without regret.
Embrace your past. Accept everything that you have created in your life and everything that has happened to you. Then move forward. As Jon Bon Jovi says "Don't waste your time away thinkin' 'bout yesterday's blues". Don't get hung up on the guilt or the "poor me" story. Accept the past and then move on. I believe life is full of lessons for us to learn and grow from to make better choices. As Maya Angelou said "I did then what I knew how to do. Now that I know better, I do better".
So do better. Be better. Live better. Choose better.
All of your past experiences have brought you on your journey to where you are right here, right now. And right now, can be a great place to be. So take a lesson from Bon Jovi's song "New Year's Day" and sing "I'm singing carpe diem. I'm saying seize the day".