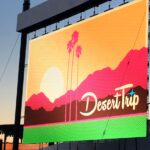 Last weekend I was very blessed to be able to attend Desert Trip weekend #2 with my daughter and sister. It was the most amazing concert event I have ever attended! And I have been to many concerts. It was truly a once-in-a-lifetime event and a new item to my music bucket list. With around 75,000 people in attendance you think that everyone would be crammed together. That was not the case. There was more than enough open space for everyone and yes, very nice portable bathrooms.
The vibe was very peaceful before the concert but once the music started, it was electrifying. The crowd consisted of a ton of baby boomers but also a great deal of people in there 20's and 30's, with a few kids in tow. It was great to see the younger generation enjoying the music and knowing the words to these amazing classic rock songs. It proves that the music will live on even after all of us baby boomers are gone. Mick Jagger said it best – "Welcome to the catch'em before they croak tour".
The festival lasted for three nights starting with Bob Dylan (awarded the 2016 Nobel Prize for Literature – first singer-songwriter to win the award) and The Rolling Stones. Listening to Dylan sing his lyrical blues with such meaning is remarkable and only something he can do. Then watching The Stones play hit after hit with Mick Jagger strutting his dynamic roostering ways lighting up the stage is electric. And Keith Richards, Charlie Watts and Ronnie Wood are still shaking it up after all these years. You can feel their energy transfer to the audience. It was a spectacular night as I listened to the voices of some of the most influential and symbolic icons who changed music history.
Saturday we were honored by the legends Neil Young and Paul McCartney. This was the best Neil concert I have ever been to. He was so present you could feel his soulful spirit and he knew this was a phenomenal unprecedented moment. It was incredible seeing the full harvest supermoon rise as you listened to Neil sing "Harvest Moon". Then came Paul who I am always amazed at. (Get the pun? "Maybe I'm Amazed") His level of performance is astonishing. I have seen him several times and the man never leaves the stage in the 2 ½ to 3 hours he plays. Paul said this about the concert, "It's like a once in a lifetime thing. Or for us, twice in a lifetime" since they played both weekends. Paul had a couple of collaborations on stage. Rihanna came out with Paul to sing "FourFiveSeconds" and Neil took the stage to play "A Day In The Life", "Give Peace A Chance" and "Why Don't We Do It In The Road" that caused Neil to break all his guitar strings. For me, it was just the most remarkable night out of the three.
Sunday's line-up was The Who and Roger Waters of Pink Floyd. Roger Daltrey and Pete Townshend are still at the top of their game. Daltrey's voice is still so fiery powerful you feel down to your soul. Townshend is still magically exhilarating on his electro-acoustic red strat. He drew blood above his right eye at the concert when a guitar tech nicked him while changing guitars. Of course, the professional that he is never stopped playing to wipe the blood from his eye until the end of the mini-set from "Tommy". Pete seemed like he did not want to leave the stage at the end, maybe recognizing how epic this all was or that it was their final show of their two-year tour. And Roger Waters voice was still so hauntingly clear you think he was still in his 20's. He has one of the most incredible vocal ranges I have ever heard. And his multi-media show uses this incredible surround sound system that so is crystal-clear I was blown away. Words cannot describe it. And the visual effects were unbelievable. I have never heard or seen anything like that at a concert. It sounded like a spaceship from "The Dark Side of the Moon" could land on us at anytime. It was truly a musical experience where Hollywood film meets hi-tech surround sound rock concert.
Out of all the amazing performances, (and they all were amazing) I would have to say that I felt Neil Young's performance was fresh, original and organic. He changed up his set quite a bit from the previous weekend so maybe that contributed to the feeling that it was extraordinary. It felt more contemporary and present day than just playing the old songs. Part could be from his backup band, Promise of the Real, which includes Lukas Nelson, Willie Nelson's son, who is an intoxicating, electric guitarist.
We were very lucky that the refreshing winds flew in each night. (No Dylan did not sing "Blowin in the Wind".) These legendary artists playing their music in the cool desert nights with the wind blowing in through the lyrics at just the right time and the full harvest supermoon was just pure musical magic. Neil's song "Harvest Moon" couldn't say it better.
"But there's a full moon risin'
Let's go dancin' in the light
We know where the music's playin'
Let's go out and feel the night"
Everyone there felt the spellbinding musical magic of the three nights. This last weekend will go down as the best concert festival I have ever attended! And this was a new item that appeared on my bucket list this year. It was an item that I never knew I wanted until I heard about it 6 months ago. Now I want more Desert Trips. Hopefully the people at Goldenvoice feel the same way. It just goes to show you that maybe the new items added to to your list might be just the best ones yet!