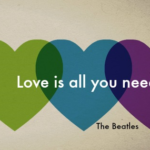 You can be the change you want the world to see. Change starts somewhere so why not have it start with you? If we all made little positive changes daily, to ourselves and others, we would see a more kind, loving world. What is the world you want to see? One of disconnect, negativity, judgment and hate or one of connection with others, positivity, forgiveness and love? I vote for love.
Buddha refers to it as – right thought, right speech, right action. But right is not choosing good over bad. It means I care. I'm listening to you. You matter. I am not here to blame. I want only good for you.
If we pause on our thoughts before we speak or act and consider the other person first, then our communication will be more positive and more effective. In this post election world, let our minds and hearts be open, hopeful and positive because what we think about we draw back onto ourselves.
It is better to light a candle than curse the darkness. Eleanor Roosevelt
Light the way and be the change you wish to see, but do it in a loving, positive, respectful manner. You are what you create.
As Ellen DeGeneres always says Be kind to one another. When we are kind to others, we don't need to worry about the rest because the future will then be bright!
Be the Light! Be Kind! Be Respectful! Send Love! Start the change you wish to see! Together, we can change the world! Will you join me?