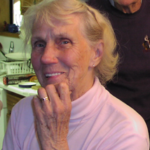 What makes a person a light to others? Having an open heart and sharing your gifts with the world. This light was my mother-in-law, Violet. As soon as she saw you, her face would light up! Violet would stop what she was doing and welcome you into her home with a warm hug. When you talked with her you felt like you were the only person who mattered at that moment. All attention was focused on you. She genuinely made everyone feel special.
"I've learned that people will forget what you said, people will forget what you did, but people will never forget how you made them feel." – Maya Angelou
Her light shined so brightly that she could fill the room with her joy. Family was everything to her and sharing time with them was her favorite activity. Her sons would barbeque as she and her daughters would wash and cut all the vegetables that she grew, along with preparing many side dishes. There was always more than enough food and a big array of desserts. She could never just have one; her husband, Howard, eating them all!
Violet would tell adventures of growing up in Virginia and some of those stories would have a lesson she wanted to share with you. Her mom would invite anyone who came by to share a meal with them, including traveling salesman. Even though the family did not have much, there was always enough food to share with strangers. There would be several plates of fresh vegetables and fruit that they harvested. This upbringing of growing your own food and sharing it with others was something that was deeply ingrained in her soul. She inherited her mom's passion for growing and sharing that has been passed down to her kids who have their own beautiful gardens and enjoying their bounty with others. The grandchildren are now doing the same.
"When you learn, teach, when you get, give." – Maya Angelou
Violet and Howard's family consists of 5 children, 10 grandchildren, 24 great-grandchildren, and 3 great-great-grandchildren with a fourth on the way. This humble couple probably could not imagine 70 years ago just how big and wonderful a family they would produce. I was given a gift to be married into such an amazing, loving family.
Thank you Violet for always making all of us feel loved and that we mattered. Your light will now shine in each of us that you have touched. Your legacy will be felt for generations and no one could ask for a greater gift! Thank you for being such a light in my and my family's life and making me feel like a 4th daughter to you. You are truly one of the most amazing, gifted and loving people I have ever met. We will miss your smiling face and your giggles. Thank you for sharing your light with me. I am truly blessed to have known such an incredible soul as you! You have always been an angel and now you are one from above!
"Nothing can dim the light which shines from within." – Maya Angelou